Singapore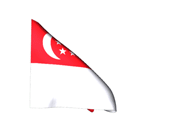 Singapore, is a modern city-state and island country in Southeast Asia. It lies off the southern tip of the Malay Peninsula and is 137 kilometres (85 mi) north of the equator. The country's territory consists of the diamond-shaped main island, commonly referred to as Singapore Island in English and Pulau Ujong in Malay, and more than 60 significantly smaller islets. Singapore is separated from Peninsular Malaysia by the Straits of Johor. Singapore is highly urbanised. About 5.5 million people live in Singapore (as of end-June 2014). 3.4 million people are citizens and the remaining 2.1 million people are foreign nationals, of which 0.5 million are permanent residents and 1.5 million are non-permanent residents. One-third of Singapore citizens are foreign-born naturalised citizens. Because of it being an immigrant country, and its numerous links to the global economy, Singapore is one of the most globalised countries in the world. Singapore is ethnically diverse. Ethnic Chinese Singaporeans predominate with about 74.1% of the resident population, followed by significant minorities of Malays (13.4%), Indians (9.2%), and Eurasians. There are four official languages: English, Malay, Mandarin, and Tamil. English is the common language of the country.




Sports in Singapore

Singaporeans participate in a wide variety of sports for recreation as well as for competition. Popular sports include Supercar Motorsports, football (soccer), cricket, rugby union, swimming, badminton, basketball, and cycling. Most people live in public residential areas that often provide amenities including swimming pools, outdoor basketball courts as well as indoor sport centres which provide facilities for badminton, squash, table tennis, american football, gymnastics, indoor basketball and volleyball, among others.

While not a major sporting power, Singapore's athletes have performed well in regional as well as international competitions, especially in table tennis, badminton, sailing, swimming and water polo. To date, Singapore has won two Olympic silver medals, one at the 1960 Rome Summer Olympics by weightlifter Tan Howe Liang and the other at the 2008 Beijing Summer Olympics in the women's double table tennis by Singapore players Li Jiawei, Feng Tianwei and Wang Yuegu. Singapore won the bid to host the inaugural 2010 Summer Youth Olympics.

Wrestling in Singapore


While the first officially registered governing body of wrestling in Singapore (Singapore Amateur Wrestling Association) can be traced back to 1933, wrestling had ceased to exist locally since 1980. The current National Sports Association, Wrestling Federation of Singapore (WFS) was established as a new and separate entity on 18th December 2008. WFS has been successfully registered as a charity and renewed with Institution of Public Character status since 1st of February 2012. The Wrestling Federation of Singapore is the sole governing body for the sport concerning areas such as; national competitive representation, affiliation, coaching, talent-scouting, technical officiating as well as education and promotion of the sport to educational institutions, corporations and local communities. Wrestling was first granted External CCA status by the Ministry of Education in 2009 and currently has students from around the country participating and representing our nation in wrestling as an External Co-Curricular Activity.

Although being one of the youngest nations in one of the oldest sports in the world, WFS strives to produce homegrown athletes who have and will continue to achieve success at the international stage, contributing towards our Nation's sporting achievements.


The new Wrestling Federation of Singapore (or WFS) was started in 2008 where a small group of wrestling enthusiasts got together and spent most Saturdays, learning and refining the sport's techniques. Its mission is to establish and develop the sport of wrestling in Singapore and since its inception, the WFS has managed to do so with its introductory programmes for schools, amongst others. Olympic Wrestling in Singapore is currently being developed with the intent of becoming accepted as one of the national sports. Styles will include Freestyle, Greco-Roman and Beach Wrestling.

Wrestling legend Sergei Beloglazov (2. from left) as Singapores Head Coach.

International Situation
Just one year after the founding of the Association, were wrestlers from Singapore at international tournaments. Singapore claimed its first medal in their 1st appearance at the 25th SEA Games in Laos 2009. Sul Mohamad Sulaiman took a silver medal in the 74 kg Freestyle Wrestling category. Melvynna Tambunan is Singapore's 1st female wrestler at 48 kg competing in the 2009 Asian Senior Championships, 2009 Klippan Lady Open, 2009 World Championships in Denmark & 25th SEA Games Laos 2009.Singapores athletes regularly take part at Asian Championships and Commonwealth Games.The host of the first "Youth Olympic Games" 2010 in Singapore was a great spectacle were two local youth wrestlers took part. Big international successes have not been achieved as expected. In order to be succesful in the international wrestling scene requires a large mass of athletes, experience and professional training conditions. To reach ones goal, WFS has temporarily contracted two international top coaches from Russia and South Korea.
National Situation

The Wrestling Federation of Singapore is the governing body for wrestling styles managed under our International Federation, United World Wrestling. These include the Olympic wrestling styles such as Freestyle Wrestling, Female Wrestling and Greco-Roman wrestling as well as the Non-Olympic styles of Beach wrestling, Pankration and Grappling.
The actor, former US-Wrestler and Coach and Jimmy Taenaka started a wrestling program at the MMA at Fightworks Asia (Now defunct). Not long after, the Wrestling Federation of Singapore was born in 2008. The former American wrestlers, Mike B Denoma, Paul Velekei, Jimmy Taenaka and Bernard Chin have been the founders of the federation. Mike Denoma, who was then the Vice Chairman of Standard Chartered Bank in Asia, believed that wrestling was one of the best sports on the planet to develop the young. Rather than bringing in the best foreign talent to represent our nation, Mike Denoma envisioned bringing in the best foreign talent to produce own talents, and that was how the first coaches, Chung Tong Kun and Sergei Beloglazov who is a 2x Olympic Champion and 6x World Champion were brought in.
One of the first local wrestlers in Singapore was Gabriel Huang. Now he is one of the key people and multi-tasker behind the Wrestling Federation of Singapore. Gabriel Huang is Operations Manager at WFS.
The key challenges that WFS had to face was definitely the public perception of what wrestling was, after decades of WWE popularity on the island nobody knew what Real wrestling actually is. While some of these misguided public perceptions are slowly fading, many people especially from the older generations still think of the WWE when wrestling is being mentioned.
Since 2009, WFS has tried to popularize olympic wrestling through student involvement at educational institutions as well as participation at the recreational and elite level. While there is still some resistance in the school front, but WFS has now successfully penetrated the local combat sports scene with all major Mixed Martial Arts Gyms in Singapore affiliated with us and actively running a Singapore wrestling program.
For to get more experience in Wrestling, WFS work together with famous USA Coaches like Tom Hutchinson, NCAA All-American Pete Schuyler or Olympian Ben Askren.
Federation
4, Fourth Chin Bee Rd Jurong Outdoor Futsal Centre 619698 Singapore

Homepage:
https://sites.google.com/a/singaporewrestling.com/public/home/news/wfsappointsmrchungtong-kunashighperformancecoach-2
Olympic Wrestling in Singapur
Asian Wrestling School Singapure
https://sites.google.com/a/singaporewrestling.com/public/aws
Meerkats Wrestling Club
https://www.facebook.com/meerkatswrestling?pnref=lhc
ITE College East Wrestling
https://www.facebook.com/ITEWrestling
Juggernaut Fight Club
http://juggernautfightclub.com/
Jagsport
http://www.jagsport.com/wrestling

Evolve MMA – Coach Ben Askren (USA)
http://evolve-mma.com/classes/wrestling.html
US Olympian and MMA Figther Ben Askren works in Singapore.