Germany

Germany (German: Deutschland), officially the Federal Republic of is a federal parliamentary republic in west-central Europe. The country consists of 16 states, and its capital and largest city is Berlin. Germany covers an area of 357,021 square kilometres (137,847 sq mi) and has a largely temperate seasonal climate. With 81.8 million inhabitants, it is the most populous member state in the European Union. Germany is one of the major political and economic powers of the European continent and a historic leader in many theoretical and technical fields.
Wrestling in Germany
In the German language Wrestling is called "Ringen". The German Wrestling Federacion is called Deutsche Ringer-Bund e. V. (DRB) and it is founded in 1972 (Befor it was a athletic Federacion together with weigtlifting). Its the umbrella organization of the 20 regional organizations and the 471 German wrestling clubs. Seat of the DRB since 2000 is Dortmund. The current president is Manfred Werner. The predecessor organization of the DRB was the German athletes covenant in which also the weightlifters took part.
The olympic style wrestling in Germany has a long tradition. Already in 1893 the first German Championships were held. Moreover, since 1922 Championships for teams will be held. German record team-champion is the VfK Schifferstadt. Numerous Germans have been very successful at World Championships andOlympic Games. Probably the most successful German wrestler was Wilfried Dietrich, who won a gold, two silver and bronze medal at the Olympics in the1950s and 1960s.
Today wrestling in Germany is not much popular and not often to see in tv.
International Situation
Germany is due to its high level of development and a large population, a generally successful sporting nation. Seven German Wrestlers have been Olympic champion (list). A world champion title (list) won 23 German wrestlers. After German reunification, the wrestlers had the most successful times in the nineties: Maik Bullmann, Rifat Yildiz, Arawat Sabejew, Thomas Zander, Alfred Ter-Mkrychyan, Alexander Leipold and Brigitta Wagner won the World Cup.
In the new millennium, these results can not be achieved and World Cup medals have become a rarity. A positive exception was the silver medal won by Mirko Englich at the 2008 Olympic Games in Beijing. To the Games in London in 2012 could qualify only four athletes (Alexandra Engelhardt, Tim Schleicher, Nick and Frank Matuhin Staebler).The Fifth place of Frank Staebler in weight to 66kg Greco was a good individual performance, but the DRB is extremely dissatisfied with this result.
The German Federation wrestlers can, however, make reasonable hope for better times.
Since 2009, have the newcomers Ahmed Dudarov, Manuel Wolfer, Peter Oehler, Aline Jibs, Nina Hemmer, Jackeline Schellin, Coskun Efe, Edward Popp, Oliver Runge, Saba Bolaghi, Frank Staebler, Etka Sever, Luise Niemesch, Eva Sauer and Denis Kudla in a medal at Junior World Championships in wrestling. In 2014 Aline Focken won the World title in Tashkent/Uzbekistan,and Frank Stäbler also won Gold 2015 in Las Vegas/USA.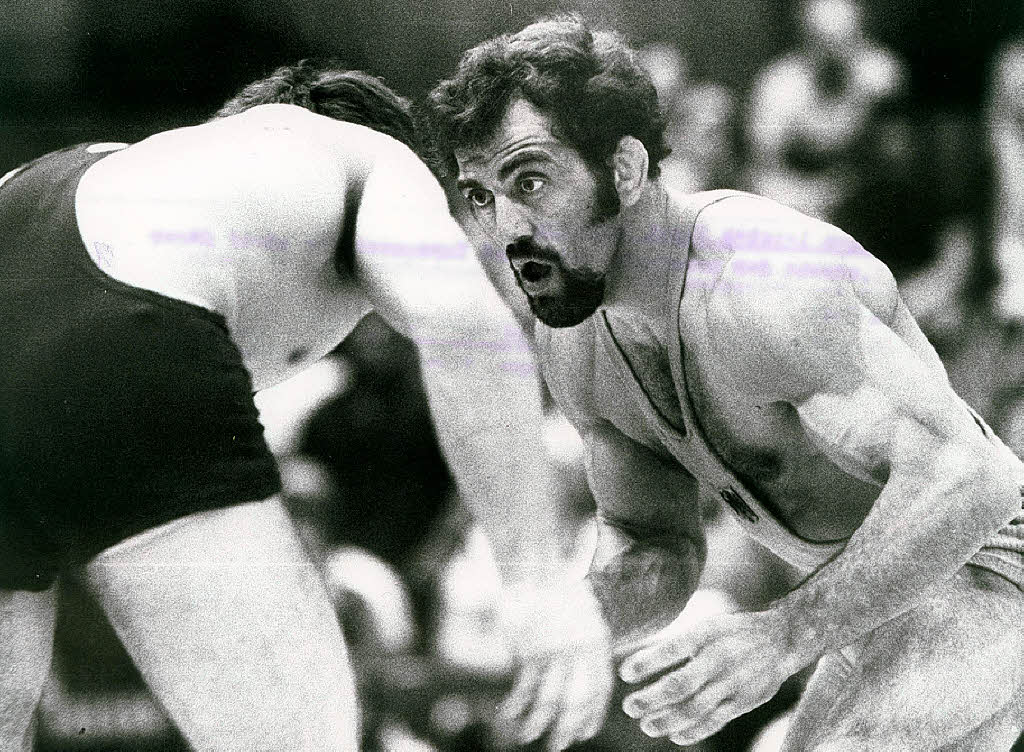 Adolf Seeger is one of the german wrestling idols. He won the World Cup twice in the seventies. Cadet World Champion 2011, Denis Kudla. World Champion 2014 Aline Focken.





National Situation


In Germany the number of clubs is slightly declined. This negative trend has many causes, but depends also by a low birth and can be detected in nearly all sports. Team fights are more popular in Germany than tournaments. In southern Germany, there are more wrestling clubs than in the north. Following Wrestling Centers have been approved in the DRB for the Olympic cycle 2013-2016: Aschaffenburg, Schifferstadt, Frankfurt / Oder (only Greco-Roman), Saarbrücken (only Greco / Roman) and Dormagen (women), For Juniors Freiburg, Jena, Luckenwalde, Nuremberg.
The national coaches are Sven Thiele (freestyle), Carl Michael (Greco), Nicolea Ghita, Patrik Loes and Alexandra Engelhardt (women) and for the Juniors are Maik Bullmann (Greco) and Jürgen Scheibe (freestyle) responsible. Sportdirektor is Jannis Zamanduridis.



T

eam

figths




Wrestling

will be held in

Germany

as a

team sport

and its called
Bundesliga
(like soccer).

Two teams

figth

against each other.

Each team

is

usually ten

starters

on

(one for each

weight class

and

the

categories

66, 74

and 84

twice

).

Half of the

competions are fought

in freestyle

and in

Greco-Roman wrestling

.

The scoring points of

the individual

won

rounds

will be added.

Exception

of

touche

, technical superiority,

surrender

and

disqualification

of a wrestler

.

These

are ranked

with

4-0

for the winners team

.
In Germany there is

a system of

leagues

.

The highest

league is the

first

Bundesliga

.

This league

is

in

a north

-

. and

Southern group

subdivided

.

The

four

best

-placed

teams qualify for

the finals.

This

is

the

all-in

System

held

here

and

the

title

of

the German
team
champion

(

list).
To

the finals

usually

come

4000 spectators

.

In the German

Bundesliga

,

many foreign

athletes

(lured by

lush

fight

premiums) have contracts to fight.

Below the

first

Bundesliga is the

second

Bundesliga

,

which

is

divided into three groups

(

North,

Central and South

).

The

top-ranked

teams rise up to

a league that

placed

last

relegated.

In the regional associations

, there are other

leagues

, the

highest level

is called Oberliga.

Among

come

Association

,

country

and

district

leagues

, arrangement and

designation

depends on the

state association

.

Around 700

teams

participate at the German league system.




Once a year, the

German Team

Championships for

women will be held.

Only

selected teams

of

different states

compete

against each other

.

The

competitions take place

only

in free style

.
Deutscher Ringer-Bund e.V.
Revierstr. 3
44379 Dortmund
Tel (0049) (0) 2 31 / 96 78 49 - 0
KMDittmann@ringen.de
http://www.ringen.de

09/2015